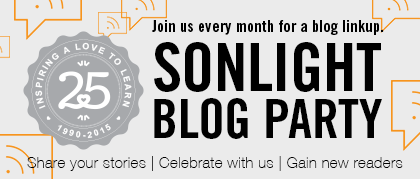 As a long-time user of Sonlight Curriculum (for all but about 2 years of my more than two decades of homeschooling), I'm joining in the celebration of their
25th Anniversary Celebration
by taking part in this month's Blog Party.
This month, bloggers are asked to share about projects that tie in with books.
I'm so glad that Sonlight includes these elective resources…they are wonderful additions to our curriculum and help make it easy to include areas of instruction too often easily overlooked. In just a few minutes a couple days a week with this book, and your child has the opportunity learn things beyond the "Three Rs".
The Story of the Orchestra
introduces young children to the instruments, the structure, and the composers of classical music.
In the first part of the book, the varying instrument "families" are explored, followed by the second part where a wide variety of composers are introduced. Also included with this book is a CD, featuring 41 segments of music to go along with the readings.
In my quest to find something hands-on to go with this book, I searched Pinterest, blogs, and Google. I created
a board on Pinterest
with what I found.
I'll share here some of what you'll find there.
The website Color My Piano has an incredible array of resources, including a free Musical Instruments Workbook (scroll down…it's the 32nd item on the page) you can print out. It contains coloring pages and blank lines for taking notes for learning about the musical instruments and the musical instrument families.

For the instruments not included in this resource, but included in the book, I was able to hunt down a coloring picture for each, which you can find links to on my Pinterest board.
Another resource on Homeschool Helper is these free Famous Composers and Musicians Notebooking Pages.

All but five of the composers covered in The Story of the Orchestra are included.

I was able to find another resource with free blank composer notebooking pages plus one for Wagner at the blog Practical Pages. On my Pinterest board, you'll find pins that link to photos of the remaining four that can be printed and glued onto the blank forms.
I pinned some great resources from numerous professional orchestra's websites including The Dallas Symphony Orchestra, The New York Philharmonic, and The San Francisco Symphony Orchestra.
There are even more fun resources than I've described here that will go so well with this book to make it come even more alive to your child. As I discover more, I'll add them to that board so that no matter how lightly or how in-depth you'd like to use this book, you'll find something you can use on my board.
Hope you've found this helpful! Let me know if you use any of it and how!