While some homeschoolers teach year round, my preference over the years is to take the summer off. I've found I need the break, plus it's a good time to plan for the next school year. I've learned that it helps me
during
the school year if I already have things ready to use instead of having to prepare them as I need them.
This coming school year, my third grade daughter will be doing
Sonlight's Core D
,
Intro to American History, Part 1
. This will be, incredibly, my fourth time teaching this Core! My oldest daughter went through this Core back in 1998-99. Later I did it with my son in 2002-03, and again with another daughter in 2008-09.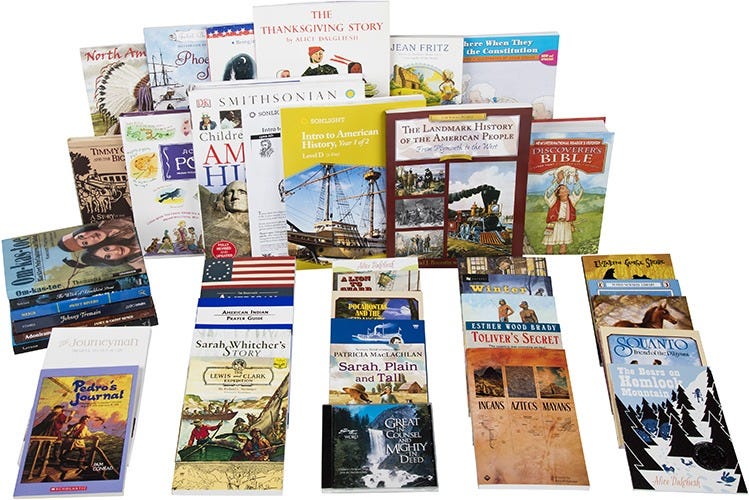 The first thing I did was to work on building up a Pinterest Board specifically for this Core (To see what I've pinned,
you can go here
.).
Last year I dabbled with the idea of
Notebooking
and really liked the results, so I wanted to expand on that idea this year. So besides pins for additional information and videos, I've included images and printable resources to go along with our studies. Being on a tight budget, I specifically seek out FREE printables.
Next I wanted to have
everything
(or nearly everything) printed and filed by what week of the school year it will be used. This was a pretty big task. But I've come to realize that if I have to stop what I'm doing to print during the school day, if I'm short on time, it's going to get dropped. So if I really want to use these things, getting them all printed and organized during the summer ensures these great resources will actually get
used
! I purchased a large plastic box designed to hang file folders in like this one:
Here is my filing system:
Since Sonlight's Instructor's Guides have the coursework divided over 36 weeks, I have that many folders of materials. Now when we're doing that week's work, I'll be able to pull that folder and access the items needed. If the resource was a video, of course I can't print a video, so what I did was I went ahead and printed the page of that pin so I'd have something to file. Then I'll just go to that pin online to connect to the video.
There are also numerous resources I have printed that will be used throughout the school year. Some of these I chose to laminate, others I have placed in these plastic sleeves which can be written on by dry erase or wet erase markers.
I don't own a laminater, so here's what I use for any printables I wish to laminate.
The last thing I've completed to get ready for school to start is to get all the books organized. Here are all my Core D books shelved:
And here are books I own that will go along with the Core, shelved in order to coordinate chronologically with the Core.
We're nearly ready to go! My daughter's building a new Time Machine for riding in when we do our history lessons...school supplies are being purchased...
What do you do to make your school year run more smoothly?