First, one of the fire fighters explained some fire safety rules and then talked about the special clothing fire fighters wear while two guys put on their gear to demonstrate.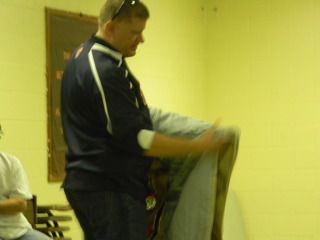 Here he is describing the protective fabric lining in the coats the fire fighters wear, emphasizing that their clothing is not fire PROOF, only fire resistant.
Now the guys are putting on their coats...
All set!
Next the features of the fire hat were explained, including how fire fighters recognize who each other are as well as which fire company they work with based on the color of the hat and the number on the front.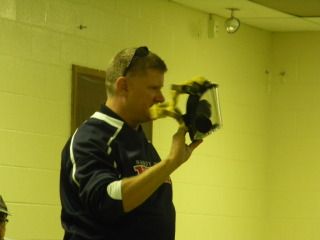 Explaining the air mask the fire fighters wear.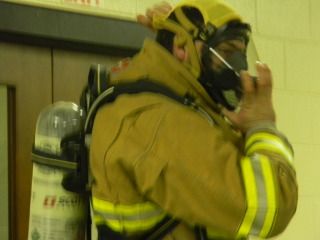 Putting on the air mask.
The children were urged to NOT run away and hide from a fire fighter. They were shown what a fire fighter in full gear looks like so they won't seem so scary. They also got to hear how a fire fighter, wearing full gear, sounds something like Darth Vader.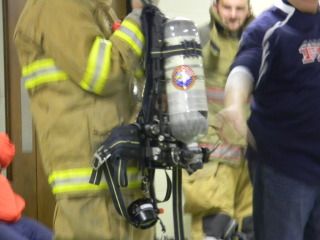 The air tanks they wear give them about 30 minutes of air. Lights start flashing and a siren goes off to let them know when they have only 3 minutes of air left.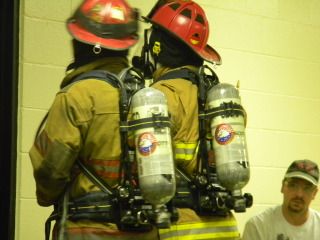 It was also explained that a siren goes off on a fire fighter's gear if he doesn't move for at least 45 seconds. This way, if he is hurt or trapped, other fire fighters can quickly find him. They let one of the sirens go off and it was LOUD!
The fire fighters demonstrated how one should CRAWL not walk when there is a fire. Children were encouraged to crawl to a fire fighter if they needed to get to one, NOT to walk. Also, if for some reason they couldn't yell for help, to grab hold of his clothing or a tool he's holding as he goes by in order to catch his attention so he'll find them. They were told that in a fire, it is DARK. The smoke will be heavy and often BLACK so the fire fighter may not be able to see them, so they must yell or do something to get his attention.


The children got ready to play a game of "Stop, Drop, and Roll" as a reminder of what to do if their clothing catches on fire.
Here's my daughter having a go at it.
Now she's picking the next child to have a turn.


This woman from a local insurance agency was there to explain to the children how very important it was to NEVER go back inside their house when there is a fire to try to get something left behind.




Then it was time for the BEST part of the morning: exploring all the fire trucks parked outside.
Listening to the fire fighter explain about the fire truck.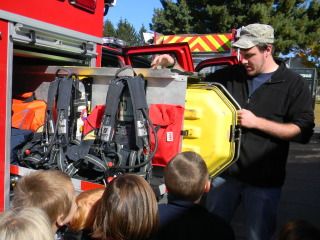 Showing the children some of the rescue gear.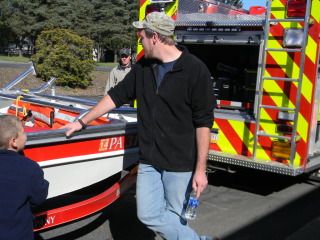 Sometimes fire fighters need a rescue boat!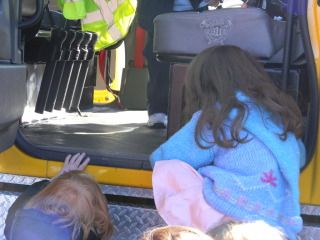 The fun part is getting to climb into the fire truck!
They are BIG!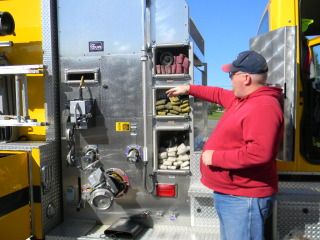 Showing the fire hoses.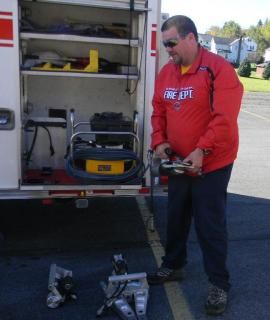 Here this fire fighter is showing the children the "Jaws of Life" and other tools used to rescue people who are trapped in vehicles after an accident.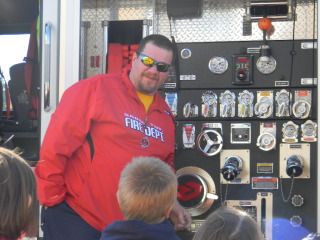 Here, the children are told how this truck can hold 1000 gallons of water and dump it into a portable "lake" (basically an inflatable pool) that other trucks can use as a water source when there isn't a fire hydrant available. These trucks can dump their water, then go get more and return to add more to the supply. This is important when they are fighting brush fires and also fires at homes in rural areas that might not have a nearby water source.
Showing off the axes they might need to use to break through a roof or a wall to get to where the fire is.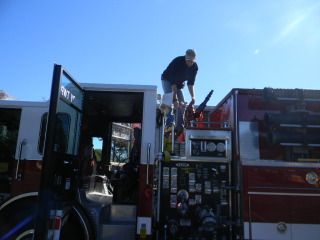 He called this "The world's biggest squirt gun". It can shoot water about a block away.
The kids got to try on a fire fighter's pants & boots.
Wearing a real fire hat!


Here's my little peanut standing in front of the HUGE fire truck wheel. She had a grand time today and learned so much about fire safety. We'll be continuing our fire safety emphasis at home the rest of the week, and of course talking about it other times as well. Later this week, there will be free fire truck rides at the mall, so we're planning to go to that as well. She can hardly wait!
If it's still fire safety week, check your area for activities for kids. Many places are offering free activities for children to learn about this important subject. And whether you are reading this while it's still fire safety week or it's past, it is never too late to discuss fire safety with your kids. It's important enough to repeat many times. And don't forget your older kids! They need to get reminders as well. Plus, they are often using things that younger kids don't that might require additional fire safety knowledge. Check out
my Pinterest
for a bunch of great ideas I've found to teach fire safety to both younger and older children.